Starting a blog (or website) on a budget can be a tricky endeavor. There are so many different hosting options to choose from at a wide range of price points—enter our comparison of Bluehost vs HostGator as we position the two against each other.
You'd like to keep your blogging costs as low as possible, but you're worried some offers are too good to be true.
Maybe you're also unsure what exactly you need to pay for. Perhaps you know you need a domain name, but you're not sure what web hosting is, or whether that should be included.
In this comparison article, we'll explain everything you need to know about two popular web hosting companies: Bluehost and HostGator.
We'll take a look at what web hosting is, how these companies compare and—most importantly—what exactly you'll be paying.
Here's what we're going to cover. You can use the quick links here to jump straight to different parts of the article:
Bluehost vs HostGator: Which Hosting Plans are Better (on a Budget) in 2022?
Disclosure: Please note that some of the links below are affiliate links and at no additional cost to you, I'll earn a commission. Know that I only recommend products and services I've personally used and stand behind. When you use one of my affiliate links, the company compensates me, which helps me run this blog and keep my in-depth content free of charge for readers (like you).
Our Pick
When it comes to Bluehost vs HostGator, I recommend Bluehost if you're new to blogging and website creation.
They offer superb customer service and technical support, which is very useful when you're a beginner.
You can get HostGator hosting for a little less than Bluehost (when comparing the cost of a 36 month plan with each company).
If you've created a blog or website in the past, or if you're pretty confident with technical things, HostGator may be the better option for you.
If you're currently on a tight budget, you may also want to opt for HostGator, as they offer a month-by-month plan.
With Bluehost, you have to pay for a year upfront. Keep in mind, should you choose monthly payments, you'll end up paying quite a bit more overall.
Ultimately, both these web hosts are great choices, so you can't go wrong, regardless the one you choose.
Features
Bluehost and HostGator are both web hosts. This means they "host" your website on their servers (big, specialized computers) so that people can visit it, any time of the day or night, from all around the world.
In both cases, their cheapest plans are for shared hosting. This is where your website is stored alongside other people's websites on a shared server.
This type of hosting is perfect when you're on a budget. If your site grows very large and gets a lot of traffic, you might want to upgrade to dedicated hosting instead. It's easy to upgrade with both Bluehost and HostGator.
Winner: Tie
Domain Name
A domain name is a website's address, like ryrob.com. You get a free domain name included with both Bluehost and HostGator's annual (or 3-year) plans.
Domain names are always registered for a minimum of 1 year, so HostGator doesn't offer a free one with their monthly plan.
With Bluehost, you can choose your domain name when you first create your web hosting account or after signing up, which is helpful if you're not quite ready to settle on a name for your website.
HostGator requires you to create your free domain before paying for your web hosting.
Winner: Bluehost
Number of Websites
Both HostGator and Bluehost limit you to a single website on their cheapest plans, though you don't have to pay much more to upgrade to unlimited websites.
(Keep in mind that each website will need its own domain name. You only get one domain name for free, but you can purchase as many others as you want.)
Winner: Tie
Storage Space
Your web pages take up storage space, especially if they have lots of large images. While this isn't usually a big concern when you're first starting out, if your site ends up getting very big, it will need extra space.
With Bluehost's cheapest plan, you get 50 GB of storage space, which is far more than you'll need when you're getting started.
HostGator's plan gives you unlimited space, with the caveat that you'll be contacted if your website is using an excessive amount of space compared with normal small business websites.
Winner: HostGator
Bandwidth
Bandwidth measures how much data is transferred between your website's server and people's computers or devices.
If you get lots of website visitors, you use lots of bandwidth. You don't need to worry about this, though, as both Bluehost and HostGator give you unlimited bandwidth.
As with HostGator's storage space policy, both Bluehost and HostGator do have fair usage plans when it comes to bandwidth.
You're very unlikely to run into problems here, however, if you're simply running a regular small business website.
Winner: Tie
Control Panel
All web hosts have a control panel, which is the online dashboard that lets you change your web hosting settings. It lets you do things like set up new email addresses (e.g. you@yourwebsite.com).
Both Bluehost and HostGator use cPanel, which is the industry standard.
It can seem a little technical at times, but there are lots of online tutorials plus plenty of help and support to make it easier for you to change your web hosting settings.
Winner: Tie
SSL Certificate (HTTPS)
Modern websites should have an SSL certificate to provide a secure (HTTPS) connection. This is good for your visitor's safety and privacy.
Google prefers websites to use SSL, so it's important to have a valid SSL certificate to help boost your search engine optimization.
Both Bluehost and HostGator provide a free SSL certificate for your website, provided by the third-party service Let's Encrypt. It's very easy to add this to your website and both Bluehost and HostGator provide full instructions.
Winner: Tie
CDN (Content Delivery Network)
To speed up your website, a Content Delivery Network (CDN) uses servers located all around the world. People who visit your website automatically access it from their geographically closest server.
It's important to make your website as fast as you can, as this improves your search engine optimization.
With Bluehost's starter plan, you get a free, built-in CDN. HostGator doesn't provide one.
Winner: Bluehost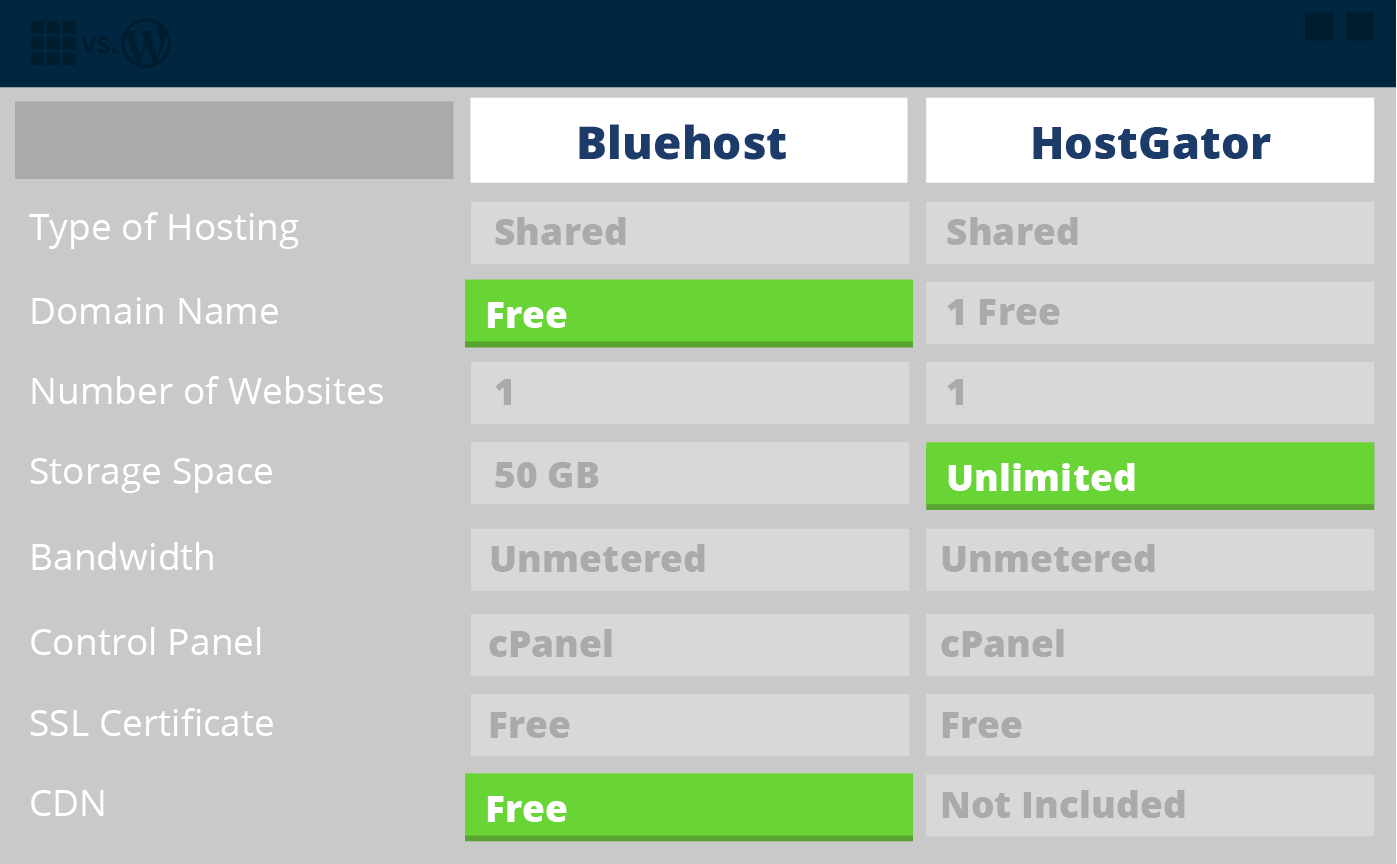 Performance
Your website's performance takes into account two main factors:
Uptime (is your website available or has it gone offline?)
Speed (does your website load quickly or is it too slow?)
You want your web hosting company to provide excellent uptime. This really is essential, because if your website isn't available, you'll lose visitors and customers.
All well-known web hosts have a very high annual uptime: normally 99.9% or higher.
Bluehost has an uptime of about 99.98% (this means your website would be unavailable for about 1 hr and 45 minutes each year).
HostGator's uptime is slightly lower at around 99.95% (this means your website would be unavailable for about 4 hours and 20 minutes each year).
They have an uptime guarantee of 99.9% and if uptime falls below that, you can claim a month's credit on your account.
When it comes to speed, Bluehost has a very fast load speed of 0.72 seconds. HostGator is a little slower at 0.87 seconds.
Winner: Bluehost
User Experience
Bluehost and HostGator both aim to make the use of their systems as easy as possible for beginners. It's straightforward to sign up for an account and to install WordPress on your website.
It's easy to install the WordPress software on your site whether you opt for HostGator or Bluehost — you don't need to do anything complicated or technical.
You can choose to sign up for lots of optional extras both with Bluehost and HostGator. If you're on a very tight budget, you'll want to stick to just the minimum package.
Remember, you can always upgrade or add extras after signing up for web hosting.
The online interface for your Bluehost or HostGator account will be straightforward and quick to get going with. HostGator's customer portal, in particular, has been praised for being uncluttered and easy to use.
Winner: Tie
Customer Support
Bluehost is known for its superb customer support, with staff who'll be delighted to walk you through any WordPress-related issues and questions (as well as dealing with any Bluehost-specific problems).
Both Bluehost and HostGator have very impressive customer support availability. You can use live chat or email, or you can call them at any time of the day or night to get your questions answered.
You may find that wait times are a little longer with HostGator than Bluehost and that the quality of customer service can vary with them too.
If you think you're going to need a lot of help with your website, it's probably best to opt for Bluehost.
Winner: Bluehost
Pricing
Web hosts aren't always as transparent about web hosting costs as you might like, especially when you're budgeting carefully. We're going to break down the difference between Bluehost vs HostGator when it comes to your hosting cost — not just initially, but over the longer term.
Both companies quote prices per month — but their lowest price only applies when you're paying for 3 years upfront. HostGator does offer a true monthly plan, but this works out to quite a bit more per month, at $6.02/month.
With both HostGator and Bluehost, you'll get the best value if you sign up for 3 years in advance.
The "introductory" price you pay will only apply for your initial 3 years (or 1 year, if you sign up for a single year instead). After that, you need to pay the standard rate. This is standard across all web hosts.
Basically, you'll have a larger bill after your initial term. By that point, you'll probably be making money from your website. Still, it's important to know what you're going to need to pay.
Here's the initial price, assuming you opt for the cheapest plan in each case.

And here's the pricing comparison between Bluehost vs HostGator once your initial term expires:


When comparing HostGator vs Bluehost on pricing, HostGator is cheaper whatever plan you opt for, so it's likely to be your best option if you want to keep your costs as low as possible.
HostGator also has a slightly more generous money-back guarantee than Bluehost, offering you 45 days to claim a refund — Bluehost's guarantee is limited to 30 days.
However, it's worth remembering that you don't have to take up your free domain straight away with Bluehost, which gives you the possibility of using this 30 day period as a Bluehost free trial.
(With HostGator, you need to either miss out on a free domain completely, or register it, then risk having to pay for it if you do decide to get a refund.)
Winner: HostGator
Bluehost vs HostGator: Which is the Best Plan if You're On a Budget?
Both Bluehost and HostGator offer great value, high-quality web hosting.
There's not a huge amount to choose between them, as Bluehost's slightly more expensive hosting is made up for by its superior customer service and slightly better performance.
If you're new to websites, I'd definitely recommend picking Bluehost. They're a great company if you're a beginner, as their support team will patiently talk you through anything you need to know.
If you're a bit more experienced, then go with HostGator. They're cheaper and their performance (uptime and speed) is very good, even though it falls just a little short of Bluehost's.
Ready to create your website? Head over to Bluehost or HostGator to buy your hosting package and get started.
Want to Build Your Website with WordPress?
Follow along with my guide—3 Easy Steps to Make a Website.
---