YouTube AI Script Generator
Get Instant Free YouTube Video Outlines
Want to create YouTube videos fast… without agonizing over all the details of the script? My free YouTube AI script generator creates a detailed script outline for you in seconds, giving you everything you need to hit "record" and start filming. No need to spend hours on your video script—this AI script writer will craft all the talking points you need right now.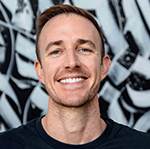 Get More Free Blogging Tools
Delivered Straight to Your Inbox
"*" indicates required fields
Use this YouTube AI Script Generator to Come Up With Detailed Scripts (That Make Recording Faster and Easier Than Ever)
If you're recording YouTube videos (or any kind of video content), then a great script is a must. The better your script, the easier and more natural you'll feel when recording your video—and the more likely it is your video will get traction with viewers and YouTube algorithms alike. I've experimented with this on my YouTube channel for ages.
With a good YouTube script, you'll need fewer takes (you might even nail it in one), you won't need to do much editing, and you'll get better engagement from your audience.
Outlining and writing scripts can be so time-consuming, though. Whether you're planning out the rough flow of your video or detailing virtually every word, it might take hours to come up with the perfect script.
Using a script generator streamlines your workflow, letting you create detailed script outlines at the touch of a button—so that you're free to jump straight into the recording. That way, you can get more content out there, faster. You'll never hit writer's block because the tool handles all the hard work for you.
Once you've got your script, you'll have all the talking points you need to sit down and hit record. If you feel like you need a little more detail, just run the script generator again to expand on specific sections of your script.
What is a YouTube AI Script Generator Tool?
A YouTube AI Script Generator Tool is a piece of software that can take your topic and come up with a unique script for you. Most tools won't write your script word for word: instead, they'll create a detailed outline that you can then use to talk from in a natural way. Plus, reading a script word-for-word from the page doesn't generally make for very engaging videos on YouTube.
The best YouTube script generators, like the fully-featured version of this tool inside RightBlogger, also give you control over the tone. While you'll be adding a lot of this in as you record, having an engaging script outline (and especially an intro) that sounds like you, will make it easier to match the energy you want on your channel.
How to Write the Perfect Script with this YouTube AI Script Generator
Ready to get started with the YouTube script generator? Here's how to use this tool effectively.
1. Type in the Topic or Title for Your YouTube Video
Ideally, you'll have a full title for your YouTube video—but even if you've just got a broad topic idea, you can still use the tool. Start by typing your title or topic into the Video Topic / Title box up top:


When you're coming up with topics and titles for your videos, you'll want to think about:
Your target audience. What type of content are they looking for on YouTube? Use words that will resonate with them.
Search engines. You want your video's title to be clear and descriptive, so that someone searching for information on that topic (either on Google or on YouTube itself) can easily find your video.
If you're stuck for an idea, try my YouTube video idea generator to come up with lots of great possibilities.
2. Choose a Style That's a Great Fit for Your Channel and Your Personality (RightBlogger Option)
Although you won't be reading your script word for word—it's more like a very detailed outline—it's still helpful to craft it in the same style you'd naturally use when recording content. There might be sentences you want to read out or phrases you'd like to use.
The fully-featured version of this YouTube script generator inside RightBlogger lets you pick from a wide range of different tones (and 20+ languages). You can stick with the "default" for a natural, conversational-style script—or try out a tone like "excited" or "formal" or "irreverent".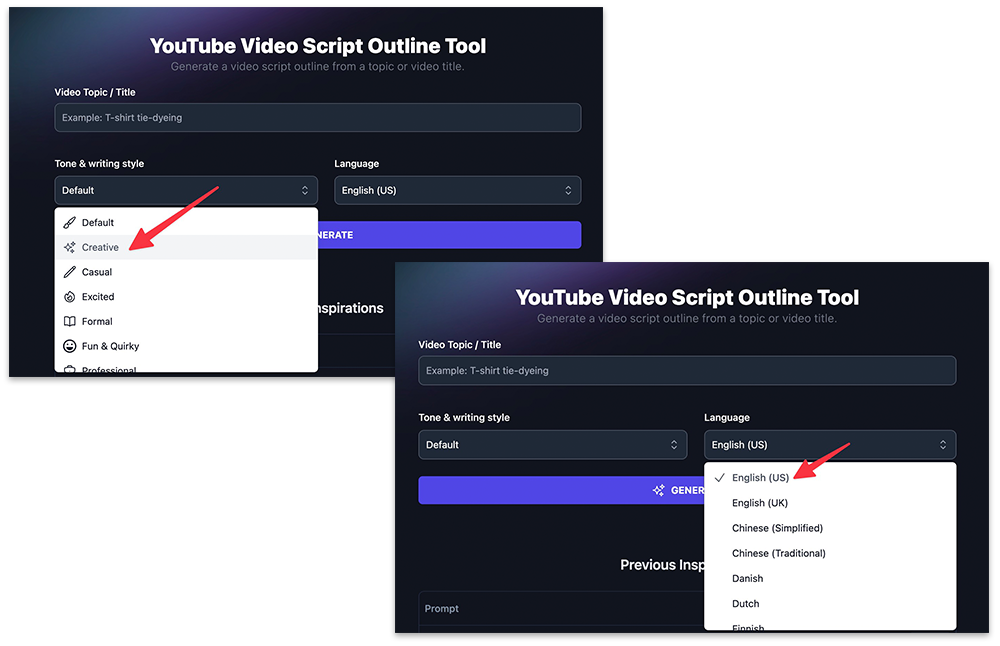 With your first few scripts, it's a good idea to experiment with a couple of different styles so that you can see which seems like the best fit for you.
3. Generate Your YouTube Video Script
Once you've entered your topic/title and chosen your tone, go ahead and create your script. The video script generator will get to work instantly, and you'll be able to see the script appear before your eyes. It'll take around 10–20 seconds for the YouTube script writer to work it's magic.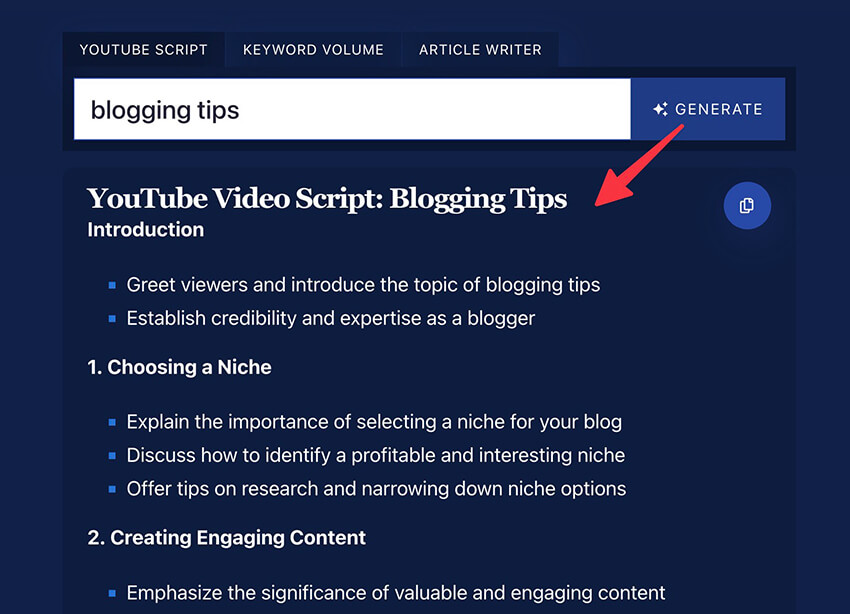 Not quite happy with your script? You can go back and regenerate it as often as you like. The AI writer will come up with a fresh script for you each time.
4. (Optional) Edit Your Script to Expand on the Content
The AI script generator comes up with detailed outline scripts. If you're fairly confident recording video content, you can take this, hit record, and start riffing on the content.
But what if you'd like a bit more help with even more details of your script? Just use the first outline script as a starting point, then expand it with more detail. Here's how.
Using the AI Script Generator to Craft Specific Sections of Your Script
When you run the script generator, you'll get a detailed outline script with subheadings. Go ahead and copy this outline into a Google doc or Word document.
Then, run the script generator again for each subheading to expand on it, and then incorporate the new material into your original outline.
Tip: Try adding "with examples" to your chosen subheading to produce a script that incorporates specific examples.
Tips for Engaging and Easy-to-Record YouTube Video Scripts
You want your YouTube video script to be engaging and interesting for your audience—and you want it to be easy for you to record from, too. It's a good idea to:
Use a script outline rather than scripting every single word: While some YouTubers and vloggers do write word-for-word scripts, many prefer to work from an outline instead. Using a script outline gives you plenty of scope to word things in a natural and conversational way—without worrying about losing the thread or forgetting a key point.
Write down any figures, statistics, quotes, or references: Even if you know your topic inside-out, it's easy for a crucial fact to slip your mind when you're recording. To minimize editing, make sure you've got any important figures, statistics, quotes, or references at your fingertips so you can easily check them as you're talking.
Keep it (mostly) focused and on-topic: While the occasional digression can be a great way to build a connection with your audience, no one's going to want to sit through a 20 minute video tutorial that only has 5 minutes of useful content. Your script should be focused and on-topic, not wandering off into long digressions.
Add a little humor to your script: Even with fairly dry topics, a touch of humor can be helpful. You might want to include this in your script, perhaps highlighting key moments where you could add a little aside or joke to help keep your audience engaged.
These best practices will steer you in the right direction for creating engaging video content that'll attract views and keep them wanting to come back for more.
Bonus: Use My Free YouTube Recording Checklist Alongside this YouTube Script Tool
It's frustrating to start recording only to realize you haven't got everything quite ready. Here's my recording checklist to make sure you can easily talk straight to camera, without lots of pauses that'll need editing out later.
Let family members or housemates know that you'll be recording a video
Use a room that's as soundproof as possible (or at least shut the door & windows)
Close all apps/tabs on your computer that you don't need
Check your backdrop—is your camera angle picking up on anything you don't want in view?
Adjust your lighting if necessary
Make sure your mic is working before you start recording
Have any props ready to hand or load up your slideshow
Do a few quick vocal exercises to warm up your voice
Silence your phone and remove any other sources of potential noise
Do a quick test video to make sure your recording software is working
Leave a few seconds of silence at the start of the video (useful for editing out ambient noise)
Once you're ready to talk, double-check you definitely hit the record button
Now, let's take a more detailed look at the features of this free YouTube video script generator.
The Features of this Free YouTube AI Script Generator (Deep Dive)
We've designed this all-in-one YouTube AI script generator to be as easy and intuitive to use as possible. You might be curious, though, about how all the different AI technology-powered features work and how you can get the most out of them. Here's a full breakdown.
Video Topic/Title (Try Entering the Full Title)
Obviously, the script generator needs a title for your video. If you've only got a rough topic or working title, it's fine to use that here. But the more detailed your title is, the more useful your script will be.
If your first try doesn't give you a script that covers quite what you want, try changing your title. For instance, "Creating a lead magnet for an email newsletter" will give different results to"10 examples of lead magnets for an email newsletter".
Stuck for a topic or title? Try my YouTube video idea generator—it's great for brainstorming lots of video creation ideas.
Tone & Writing Style (Match Your Natural Speaking Style)
While you'll be adding in plenty of your own tone and style when you record the script, it's useful to get the fully-featured script generator inside of RightBlogger, to mimic your tone. That way, you'll find it easier to talk naturally and easily from the script.
As with my other AI-powered tools in RightBlogger, you can choose from a wide range of different tones. Maybe you want a "formal" or "professional" style—or perhaps "excited" or "fun & quirky" would suit you better. The YouTube script generator will customize your script to use different types of language depending on the tone/style you pick, leveraging the GPT artificial intelligence functionality in the backend.
Remember, you can run the YouTube video script generator as often as you want, completely free. It's fine to experiment with different tones inside RightBlogger too, and see what works best for high quality content creation.
Language
This free video script writing tool is limited to just English (US) language output, but the fully-featured version of the tool inside RightBlogger can create a script in whichever language you want, with 20+ different languages to pick from. You can even set the tool to use UK English instead of US English, if that's a better fit for you and your audience.
Tip: Your input doesn't necessarily need to be in the same language as your output.
✨ Want more AI-powered tools?
Use over 50+ AI-Powered blogging tools including a full blog post writer on RightBlogger.
YouTube Video Idea Generator Tool FAQs (Frequently Asked Questions)
Can I use the YouTube AI script generator to write full scripts?

The AI script generator is designed to give you a detailed outline (with bullet points and short paragraphs) for you to use. If you want a full word-for-word script, you can run the generator multiple times, putting in the subheadings from your initial outline. You'll need to edit the content afterward.
Should I write out a full script or record straight from the outline?

Many YouTubers find that they sound more natural and engaging when speaking from an outline, rather than when reading from a full script. If you're covering a complicated or technical topic, though, you might prefer to read word-for-word (or close to it) from a script.

This one is really up to you—so it's a good idea to experiment and see what feels like the most natural fit for you. If you're ending up doing an awful lot of video editing to correct missteps, you might find it easier to work from a full script.
What other AI tools should I use to create SEO-friendly content?

Google owns YouTube, so YouTube videos often rank well in Google search. Alongside creating videos, you'll want to use my other free AI tools to help you create search-engine friendly content. From copywriting to blog post drafting, SEO tweaking your blog and more—I've got you covered with tools to create customizable high quality content, faster than ever before.

If you have a blog as well as a YouTube channel, try out my free AI keyword research tool, the AI blog idea generator, the AI article writer, and the AI paragraph rewriter. The blog title generator is designed for blog content—but could also be a great way to come up with titles for your YouTube videos. If you're thinking about starting a blog but haven't quite got there yet, try the domain name generator to pick a name for it.

Beyond my free tools, there are lots of great AI tools out there—including my own AI powerhouse, RightBlogger. You might want to take a look at my list of the best AI tools and my guide to the most popular AI writing tools, too.
Why did you make this YouTube script writer a free tool?

When I started blogging and creating YouTube videos, I had very little budget for tools—even the ones that I knew would help grow my business fast. I had to mostly make do with the tools that were available for free, sometimes splitting the cost of paid tools with my friends.

Those free tools I could find, however, made such a difference to me in the early days of creating online content. Today, I've seen so much success with my business that I wanted to give something back. So, I created a bunch of free tools that I'd have loved to have when I was getting started. These tools are free forever (including this YouTube script writer), because I care.

I want your YouTube channel to be the next big thing! And I want it to be as easy as possible for you to create great content for it. So I've made sure there are no limits on the YouTube script generator. You can use it as many times as you want, completely free. There are no strings attached. You don't need to enter your email address or sign up for gotcha pricing in any way. Free is free.

Then as your YouTube channel grows, I'd love it if you'd try my full suite of AI tools inside RightBlogger. It's not just for bloggers—it includes lots of YouTube and social media tools too. I've kept RightBlogger's pricing affordable for small businesses, so I hope it'll be a great fit for your successful channel.
Can I use the YouTube script writer to create a podcast script?

Absolutely! While this YouTube AI script generator is primarily designed for video scripts and creating video templates, it's also great for creating podcast scripts. Since the scripts aren't written word-for-word, you can easily use them as the basis of a podcast. Obviously, you won't be able to use slides or props for a podcast, so you'll need to read through your script in advance and make sure you're able to explain everything verbally.
Who is this YouTube script generator tool designed for? 

This AI video script generator is perfect for YouTubers—as you might imagine! But when I designed it, I also had in mind bloggers and vloggers, content marketers, content creators, SEO professionals looking to improve a client's online presence, small businesses… and pretty much anyone who might want to create video content online. Keep in mind, though, that it's not designed for very short scripts, like YouTube shorts or TikTok videos.
How is the YouTube script generator different from ChatGPT?

My YouTube script generator uses the same underlying technology as ChatGPT—but with some important enhancements. ChatGPT doesn't give you any kind of template for your input, meaning that what you get out can vary wildly.

I designed my script generator's functionality so that you can easily pick your tone and language. Whatever topic you put in, the generated script will be a good fit, as we've carefully tailored the behind-the-scenes prompts to give you exactly what you need.
How long should a YouTube script be?

YouTube scripts vary a lot in length as some YouTube videos are just a couple of minutes long and others might last an hour or more. If you're aiming for a 10 minute video, that's around 1,500–2,500 words, depending on how fast you talk.

With outline scripts, you don't need every word for your video. Instead, you'll need an introduction, conclusion, and around 3–7 key points. You can then speak about each point for 1–2 minutes.

There's no "right" length for a YouTube video, but recent statistics suggest that videos around 7–15 minutes long perform best. You'll want to think about your own audience and channels similar to yours, and see what lengths of videos seem popular.
How should I record and edit my YouTube video?

There are lots of different ways to record and edit your YouTube video to make it even more useful and engaging. High-quality videos use features like animations (along with compelling video scripts), so you may want to add those in during the editing process—either when recording from slides or when using video editing software. When it comes to YouTube video recording software, my favorite is Screen Studio if you plan to show your screen during videos.

You could also use a video editor to add things like a voiceover, buttons, and more. YouTube can create automatic subtitles for you, but you may want to add your own manually as YouTube doesn't always get them spot-on. You'll also need to select a thumbnail for your video: remember, the title and thumbnail are what convinces viewers to watch your video, so make the thumbnail a good one.
Tool built by my insanely talented friend, @sup. Powered by RightBlogger.