If you have a competitor website that's always one step ahead of you, chances are you'd like to learn some of their secrets, right? Enter today's topic: BuiltWith alternatives.
Whether it's the backend services they run, the website framework they use, their programming language, WordPress themes, the frontend technology or otherwise—you can gain useful insights into their tech stack to improve your own. Today, this detective work is made easier than ever with a technology profiling tool.
BuiltWith has been the go-to technology profiling tool for years. It unearths a significant amount of crucial data that helps in market research and lead generation. However, it comes at a cost, quite a steep one at that.
Considering the high price, BuiltWith may not always be the most affordable website research tool for individuals, startups and SMBs. On top of that, there's always the risk of inaccurate data. That's why I've put together this list of best BuiltWith alternatives that you should consider for your technology profiling today.
5 Best BuiltWith Alternatives (for Technology Profiling) in 2023
Disclosure: Please note that some of the links below are affiliate links and at no additional cost to you, I'll earn a commission. Know that I only recommend products and services I've personally used and stand behind. When you use one of my affiliate links, the company compensates me, which helps me run this blog and keep my in-depth content free of charge for readers (like you).
First, let's take a quick look at some of the reasons you may want to use a tech lookup tool this year.
Why Do You Need a Technology Profiling Tool?
The short answer is that technology profilers give you data about what your competitor's websites are using.
Lead Generation
Technology lookup tools crawl the deep end of the web to find and list the technology being used. Let's assume your target uses HubSpot for marketing automation. By integrating this information into your blogger outreach efforts or lead gen strategy, you can offer tailor-made solutions. These are the kinds of things that give you an edge over your competitors.
You can leverage the data to break the ice, garner attention and provide solutions that fit into the goals of your prospect.
Market Research
If you're planning to integrate a payment system but don't know which one to trust, market research and competitor analysis should give you a clear idea. These tools track various payment gateways like Stripe and PayPal, the types of websites they're being used on, and their usage frequency.
Use My Free Keyword Research Tool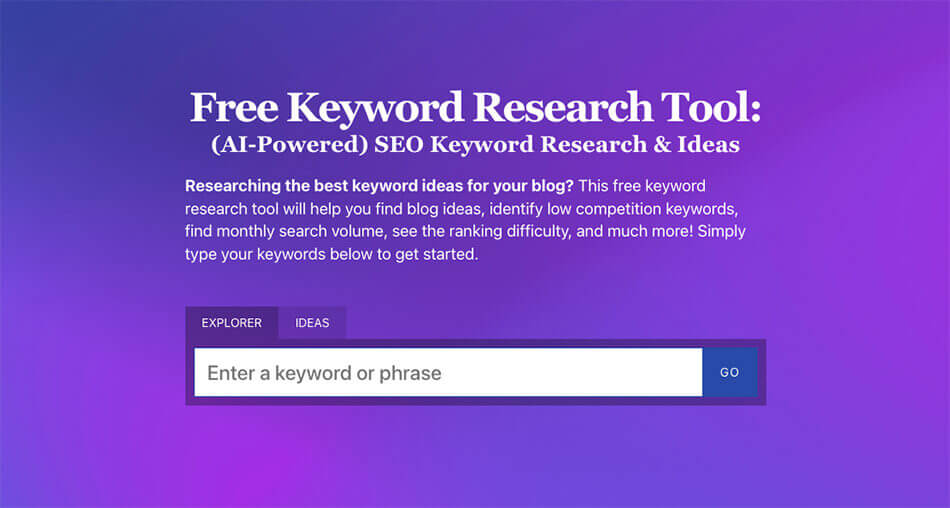 Try my free AI-Powered Keyword Tool to get dozens of research-backed ideas for keywords & topics to write about on your blog today.
---
Payment technology is just one example. You can deeply research the industry trends and market share of programming languages, CMS usage, CDNs, operating systems and much more.
Performance improvement
Technology lookup tools come up with detailed analysis and breakdown of tech stack which should help you improve your performance. From tweaking sales intelligence to improving live chat support, every team can address their shortcomings with a bit more data.
Curiosity
Technology lookup tools are a great way to build your knowledge base. I use them to keep myself up-to-speed with new trends and tech stacks that are becoming popular in the blogging space. When you have in-depth knowledge of different industries and their technologies, you can make better decisions for your business.
That said, here are 5 top BuiltWith alternatives you should check out today.
Hunter TechLookup is one of the best BuiltWith alternatives you'll find on the market today. It's powered by Hunter, an industry-leading email lookup and outreach tool that I've used for many years, so I was excited when they launched this new profiling tool.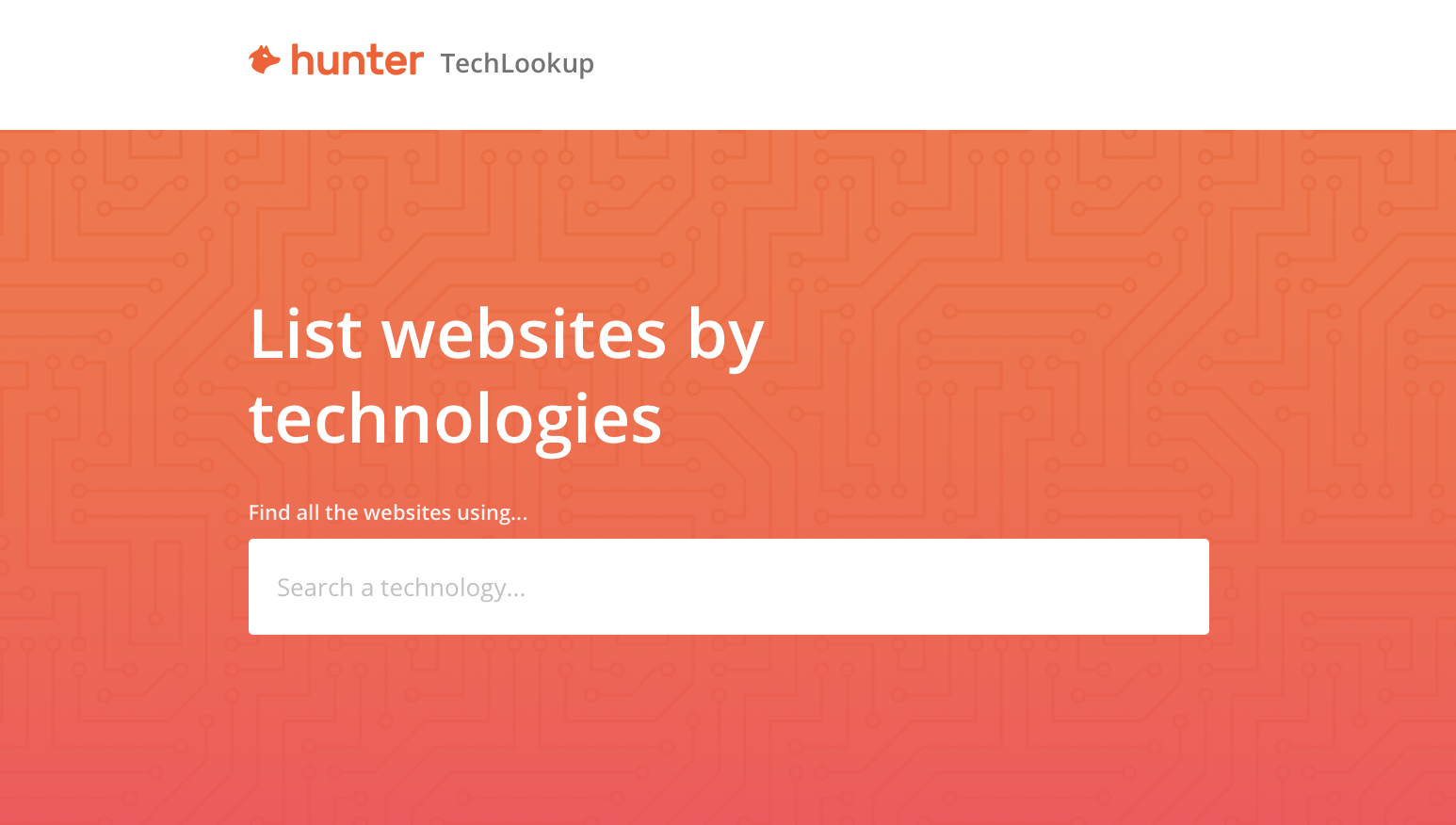 Main Features of Hunter TechLookup
Easy to use: Hunter TechLookup uses a sleek and minimalist UI that's easy to navigate. You can pick your technology from the listed categories and quickly check the websites, categories, and languages.
Create your own list: Hunter TechLookup lets you build your own list that you can export and use later. You can narrow down searches to the granular level, tweak the website categories and languages and use the very unique popularity metric to include websites based on their popularity.
Free tool: With TechLookup, you can search technology and gain insights for free. This is one of the most attractive features of this tool. In your custom list, you'll be able to see the first 5,000 websites for free. But with a premium plan, you can go as high as 50,000 websites! I've found the free plan to be adequate for most use cases.
Part of Hunter ecosystem: Hunter scrapes the internet to find email addresses and guess secret ones with great accuracy. I personally use Hunter to find the emails of prospects and verify my email list. The scraping DNA of Hunter has given TechLookup a powerful edge over the competitors. The company has also expanded the Hunter suite of products with CRM integrations, Chrome, Firefox, and Google Sheet add-ons, and email campaign automation.
Pros of Hunter TechLookup
Built for ease of use
All the essential features are free. Power users can opt for a premium plan to level up
Hunter has an established history of offering accurate data
Cons of Hunter TechLookup
Hunter's TechLookup tool is by far the best BuiltWith alternative I've been able to find for doing laser-focused email outreach.
Wappalyzer has been marketed as the alternative to BuiltWith. And it's not just in marketing, the team has done a good job developing the product as well.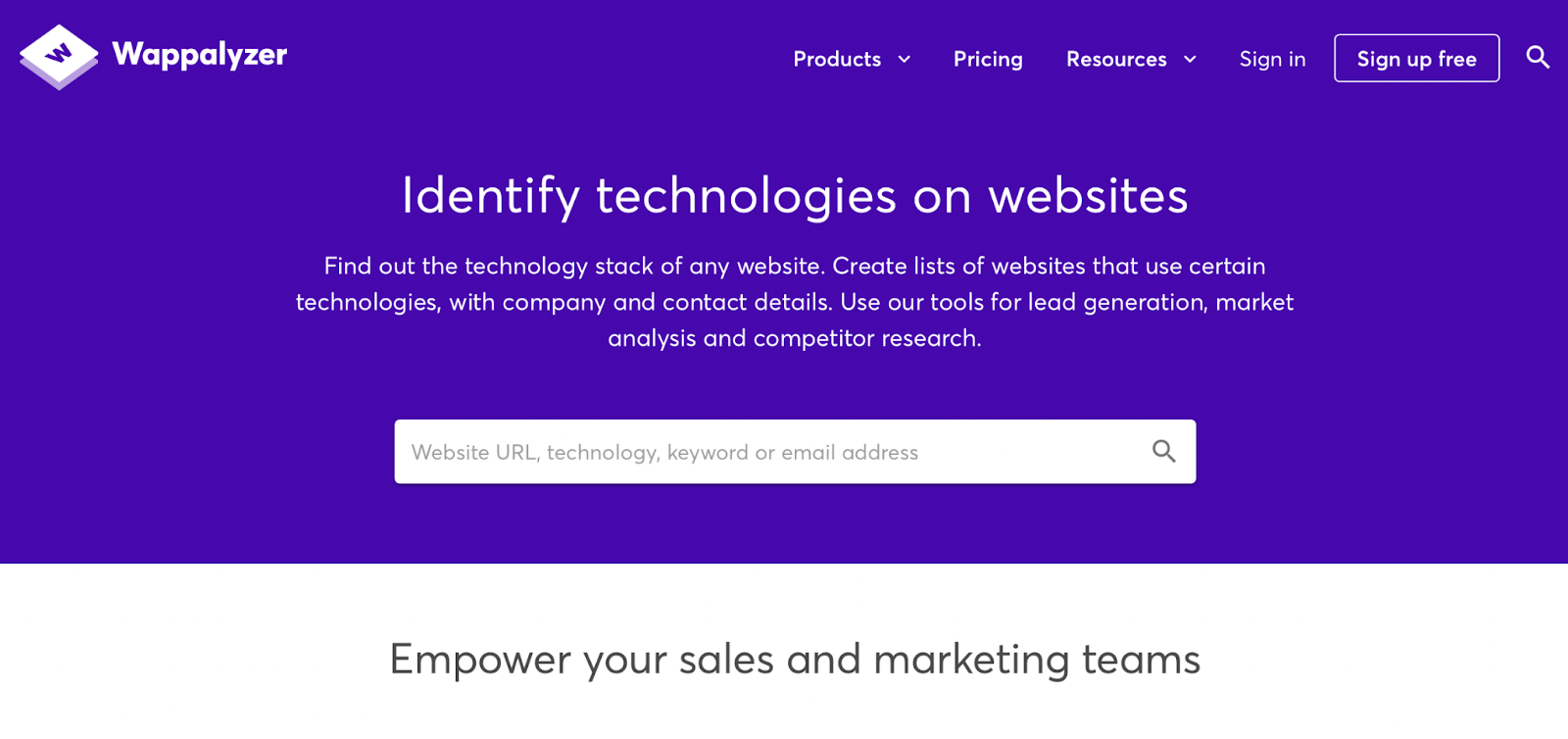 Wappalyzer tracks thousands of websites and technologies and builds lists with up-to-date information. It has a robust set of features that offers technographic insights to improve lead generation strategies. Apart from technology lookup, they allow you to create lead lists, keyword research, and website alerts to track changes.
Main Features of Wappalyzer
Simple UI: Despite all the features, Wappalyzer does a good job of providing an intuitive user experience. You can search for a website to see all the tech stack and company details quickly
Website alerts: Wappalyzer allows you to monitor a website and stay up-to-date with all the changes. This is a great way to track competitors
Scalable: Apart from lookup, Wappalyzer offers scalable app integrations and their own mobile apps for convenience.
Pros of Wappalyzer
Great for fast tech lookup
Can be upscaled with email and keyword research
Cons of Wappalyzer
Depending on your use case, the free plan can be severely restrictive. The cheapest monthly plan starts from $99/month which is a significant investment for a tech lookup tool.
Wappalyzer doesn't list technology shortcuts and categories on the search page. You have to search individual technology to find all the details.
Netcraft is one of the oldest names on this list. Over the years they've churned out quality security tools, including a website profiler called "what's the site running?"
Netcraft Site Report uses data mining to find the backend infrastructure and security protocols of a website.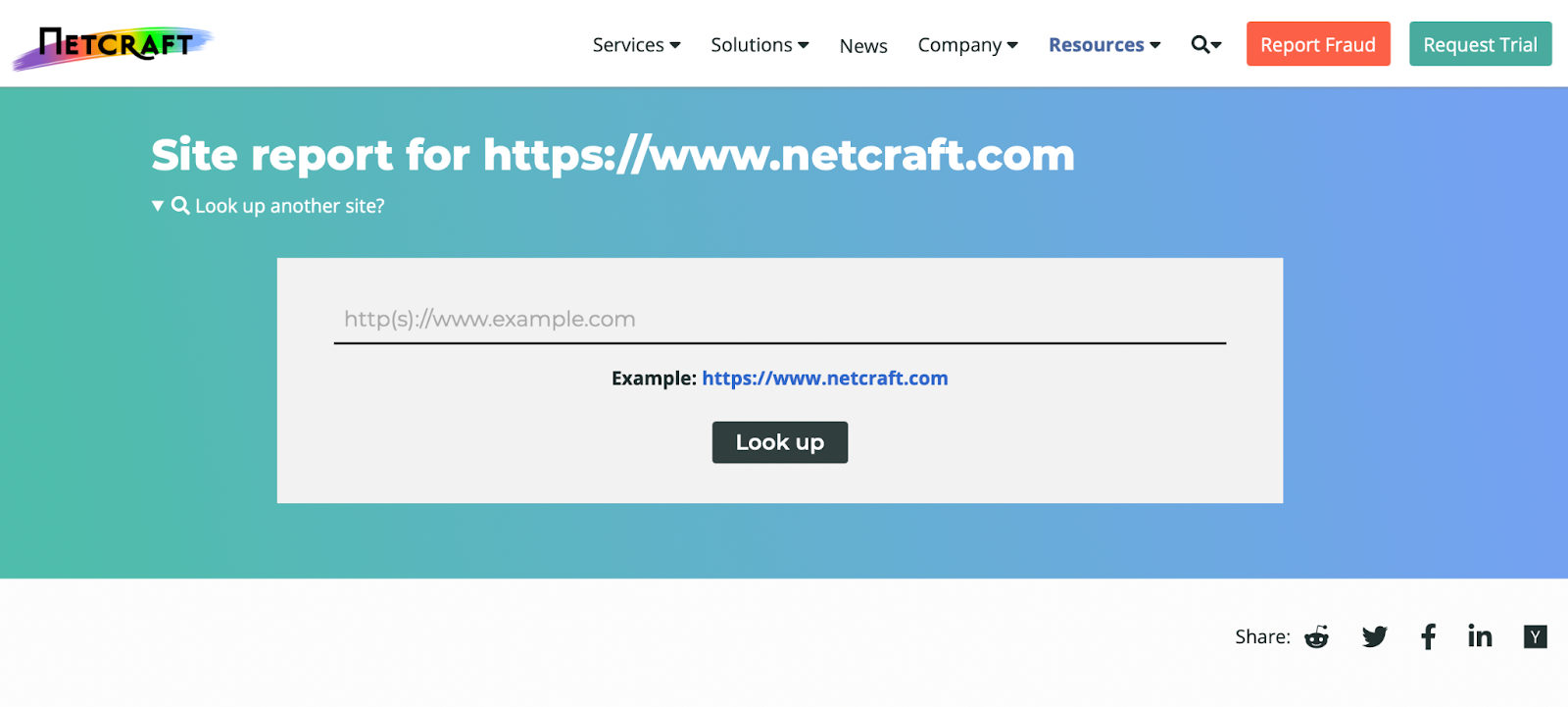 Main Features of Netcraft
Detailed report: Netcraft offers one of the most detailed security reports I've ever come across. Since their domain is security and compliance, you'll be hard-pressed to find an option better than this.
IP Geolocation: A lot of tech lookup tools don't share IP Geolocation that can be used to track servers. While this is a pretty noble decision, Netcraft actually shares Geolocation.
Hosting history: Netcraft tracks Netblock owner and the hosting records of a website.
Pros of Netcraft
Security heavy tech lookup tool
Detailed analysis and reporting
Cons of Netcraft
Doesn't offer list building and export feature
Netcraft is not ideal to build a comprehensive image since their expertise is in hosting and security
SimilarTech is a sales intelligence software that has a proven history in the lead generation and market research space. This is a no-fuss tool that quickly lets you check specific technology or websites.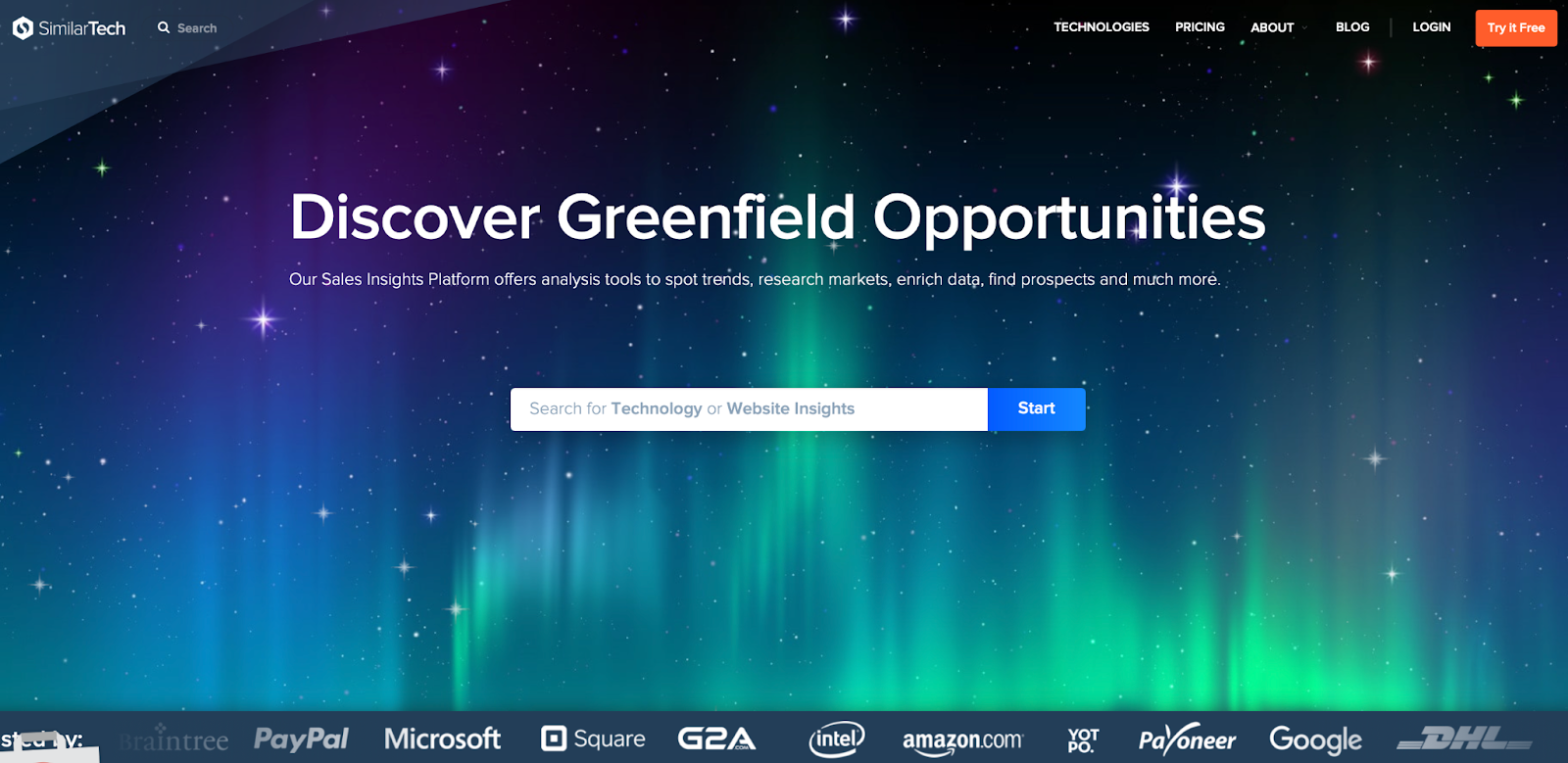 Main Features of SimilarTech
Both technology and website report: SimilarTech has made gaining insights easy. You can find results based on a particular technology or the tech stack used by a website.
Technology comparison: SimilarTech can compare two technologies. This is very useful if you're not sure which one to pick for your business. For instance, I checked their Paypal vs Stripe report and found it to be insightful
Vast scraping data: SimilarTech scans almost 30 billion web pages each month for comprehensive analysis
Pros of SimilarTech
Works for both technology and website lookup
Intuitive UI
Cons of SimilarTech
The basic plan starts at $199/month for 10 reports. SimilarTech may not be affordable for a big chunk of users. The free plan is limited.
Despite the huge scraping database, SimilarTech is prone to coming up with inaccurate and surface facts.
Rescan is a stripped-down tech lookup tool that gets the job done quickly. This tech profiling tool was previously known as Allora, but a rebrand has done a much better job of relating to their target audience of those looking for a BuiltWith alternative that's more modern and up-to-date.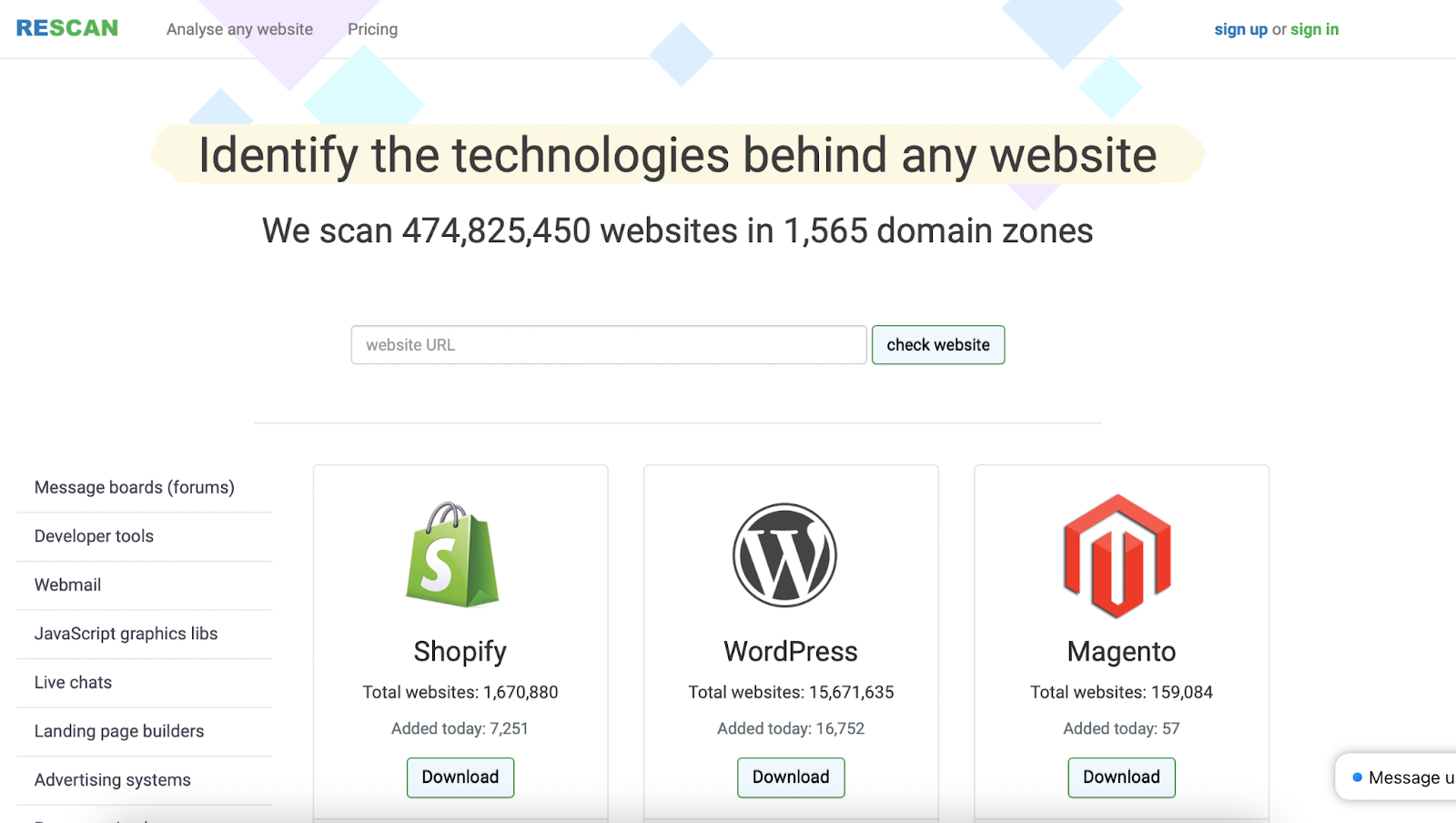 Main Features of Rescan
Tech stack shortcut: Rescan shows a curated list of technology shortcuts for users to quickly jump in. The most popular are the eCommerce technologies.
Easy to use: Rescan doesn't come with extra bells and whistles. Rather, they focus on providing a simple & easy user experience.
Works as a website and technology lookup tool: Rescan allows you to check technology trends and market share with great visuals and observe a website's tech stack at the same time.
Pros of Rescan
Rescan is a straightforward tool that's easy to use
Offers the ability to export lists with paid plans
Cons of Rescan
The basic plan starts at $49/month and it doesn't offer tons of features.
Rescan frequently fails to detect website URLs and new technology
And now finally, let's get to the bottom of this comparison of the top BuiltWith alternatives on the market right now.
Verdict: What's the Best BuiltWith Alternative Today?
All of the technology profiling tools we've mentioned in this list are great alternatives to BuiltWith.
Some are feature-rich but costly, while others focus on getting the basics right while remaining free or very budget-friendly.
At the end of the day, Hunter TechLookup ticks all the right boxes and is the best technology profiling tool I've used.
It's accurate, fast, powerful and provides a lot of useful insights beyond what many of their competitors surface in their reports. Coupled with Hunter's industry expertise with outreach-related tools and a great value in the free plan, TechLookup has become the best BuiltWith alternative I recommend these days.
You can check out Hunter's TechLookup right here and give it a try for yourself today.