Blog Title Generator
Free Tool for AI-Powered SEO Blog Title Ideas
Need ideas for your next blog post? Generate creative blog title ideas & headline examples using your target keywords with this free AI-powered SEO blog title generator tool from Ryan Robinson.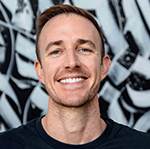 Get More Free Blogging Tools
Delivered Straight to Your Inbox
"*" indicates required fields
Write Better SEO Blog Titles & Headlines Today
Master the art & science of writing the best blog titles. Like it or not, the right blog title will make all the difference when it comes to a potential reader clicking on your headline over the one right below (or above) your article in Google search rankings. Your blog post title is crucial when it comes to nailing SEO best practices and giving your blog content a realistic chance of ranking well in organic search engine rankings.
Most bloggers just write the first blog title that comes to mind and hit publish when their blog post is ready. That's the old way of blogging. You don't want to be like most bloggers. Over the years as I went from learning how to start a blog to now reaching 500,000+ monthly readers, I've developed a system for myself to generate titles that are carefully written to attract my target audience & rank high in Google search engine results.
This free blog title generator tool is the culmination of that system I've built, so you can get blog title ideas, as if I'm right next to you. Here's how to use this free tool to generate titles that'll get you more blog traffic from both social media and search engines.
How to Use this AI-Powered Free Blog Title Generator Tool
It's simple, really. We've built this free blog post title generator for everyone to use—no matter how tech savvy you are. Just follow these quick steps and you'll generate blog headlines & catchy titles that are sure to break through any bout of writer's block.
1. Type in Your Keyword Phrase (Relevant to Your Target Audience)
With your target audience in mind, type in the primary keyword phrase you'd like your blog post title to include. Another way to think about this keyword phrase, is as the main search term you'd like your article to rank high in Google search engine results. If you need to, take a pit-stop right now to use my free keyword research tool and determine which phrase you should be targeting for your blog post.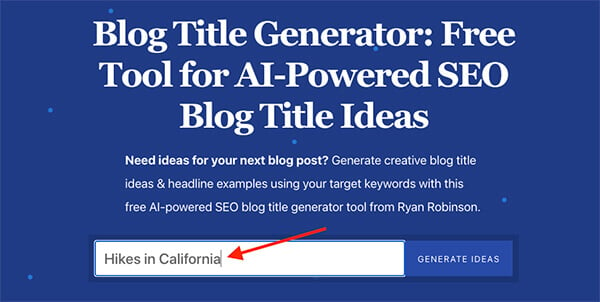 Nouns, which represent people, places, concepts & things are great here. I used the example of "Hikes in California" here, because I have a hiking blog where I'm planning to publish a series of articles around California's top hikes, and I want some inspiration for the different types of angles I could take on this blog topic.
Pro tip: If you're still on the hunt for the right keywords you should be covering on your blog, try my free keyword tool & check out my guide to keyword research. Then, see if these 202+ blog post ideas spark some inspiration for you. Writing catchy titles alone won't do much for your content creation efforts if you're pursuing the wrong blog topics (for your target audience), in the first place.
2. Generate Titles: Click the "Generate Ideas" Button to Get SEO-Friendly Blog Title Ideas
Once you've typed in the primary keyword phrase that represents the core of the blog topic at-hand, you're ready to click Generate Ideas. It'll take a few seconds for our artificial intelligence engine to do its thing, then it'll generate 10 catchy titles as a starting point (using millions of blog title templates it's trained to learn from).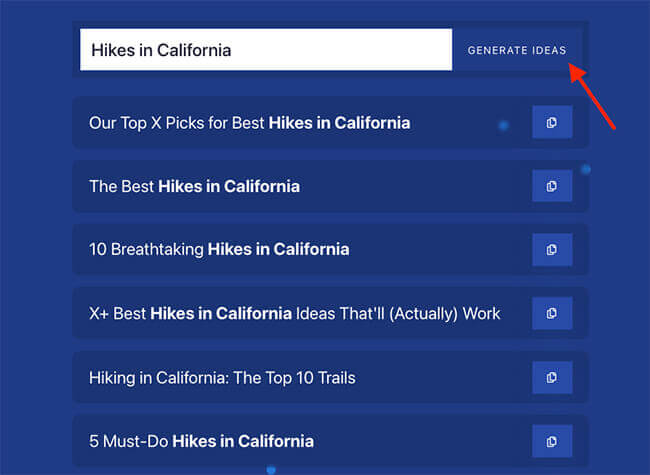 You'll see a list of ~10 blog post title ideas to choose from right below the search bar of the headline generator tool. If you don't fall in love with any of the headlines you see, just scroll down to the bottom of the list and click the "Generate More Blog Titles" button and the tool will make some tweaks and automatically generate an entirely new set of blog titles including categories like ultimate guides, listicles, how-to articles, quote roundups and much more.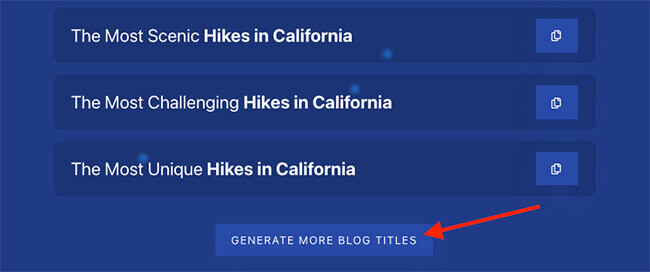 3. Choose Your Favorite Blog Headline Ideas
Once you've found your perfect blog title in the list of headline ideas from the tool, simply click the "Copy" button on the right-hand side next to the title of your choice. That'll copy the blog title to your clipboard, so you can now paste it over into your CMS.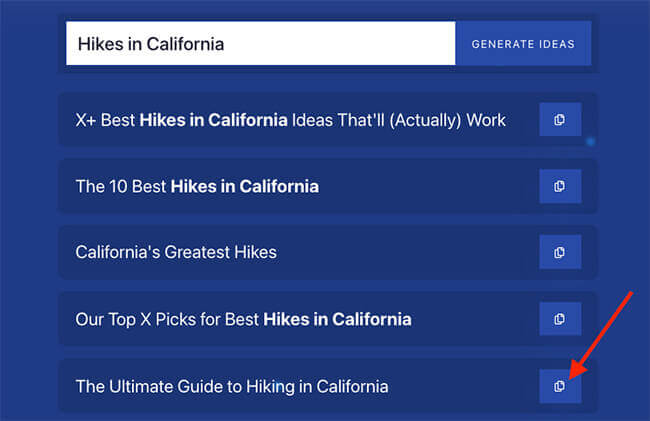 That's it! Please come back and use my blog title generator anytime you're looking for some inspiration when it comes to writing headlines that'll boost click-through rates. You'll be surprised at how useful this can be as a blog idea generator too.
The Fundamentals of Writing Winning Blog Post Titles
Almost every top-ranking article in a Google search engine result has a blog post title that entices readers. With very few exceptions, Google's search engine algorithm has done a remarkably good job of lifting up the best eye-catching SEO content that matches the intent of a particular search phrase.
Whether using this free blog title generator tool, or going it solo—here's how to write great blog titles that'll satisfy the search algorithms and take your piece of content to the next level of promotion-friendly on social media, too. Follow these steps to write catchy blog headlines today:
1. Decide How You Want to Present Your Content (Types of Blog Posts)
Before sitting down to write a blog post (and long before writing a headline), it's always a good idea to plan out how you want to present the content you plan to share with your readers. Some of the most common types of blog content include formats like:
How To Articles (ex: How to Change a Tire on a Sedan in 5 Minutes)
Listicles (ex: 15 Best Vegan Pasta Recipes You Can Cook at Home)
Reviews (ex: 8 of the Top Nikon Camera Lenses Reviewed and Compared)
Case Studies (ex: How Alyssa Gained 10 Pounds of Muscle in 8 Weeks: Case Study)
Ultimate Guides (ex: The Ultimate Guide to Running a Marathon Without Getting Hurt)
FAQs (ex: How Much Does it Cost to Fly in a Private Jet?)
Tutorials (ex: Step-by-Step Tutorial to Create a Backyard Fire Pit)
Industry News (ex: Intuit Buys Mailchimp for $12 Billion: Here's What That Means)
Product Comparisons (ex: Converse vs Vans: Which Casual Shoe is Better in 2022?)
Problems and Solutions (ex: Raising Children Today: 6 Things You Should Do Right Now)
Behind-the-Scenes (ex: A Day in the Life of a Software Engineer at Facebook)
If many of these content formats resonate with you, that's ok! The beauty of being a blogger, is that you have your own publishing platform. You can pursue content creation that allows for tackling a blog topic from many different angles.
Just be sure you're choosing blog ideas that will connect with your target audience. It's important though, to choose which format you envision a particular blog post taking, before writing a blog headline for it—or jumping over to AI writing tools to get started generating your content.
And once you are ready to dive into the writing process, be sure to try my free AI article writer, free AI paragraph rewriter to make your content creation process that mush easier. It's just one of the many AI tools we've been working on and have unlimited versions of inside of RightBlogger (including an AI article writer tool).
2. Place Your Target Keyword Phrase Near the Front of Your Blog Title
Generally, the closer your target keyword phrase is to the front of your headline, the better. It sends search engines like Google a clear signal that this is what your blog post is all about. Strive for balance here, though. Remember that you're writing headlines for both search algorithms and real humans that need to make enough sense of your blog title to actually click through.

From a blog SEO best practices standpoint, I always teach my readers to find that balance between writing for humans and algorithms.
3. Appeal to Reader Emotion with Persuasive Language
The most eye-catching titles have an emotional appeal. One of the best ways to employ that is by using what some bloggers call "power words."
Consider using power words like simple, straightforward, beginner-friendly, and step-by-step that can all emphasize how your blog post will be easy for the reader to translate your advice into action. Words like today, instantly, fast, quickly, and immediately all reassure readers that your method is one they can get started on and expect to see some results in the short-term.
How Does this SEO Blog Headline Generator Tool Work Behind-the-Scenes?
This blog title generator tool is AI-powered and designed to give you SEO-friendly title ideas. That means, we've built this tool to analyze the headlines from millions of top-ranking Google search results using GPT-3 artificial intelligence technology, with a focus on SEO (search engine optimization).
GPT-3 is a language prediction model. In short, this means the underlying technology has what's called a neural network machine learning model, that takes input text (like millions of blog post titles) and transforms it into what the technology predicts will be the most useful result (like dozens of creative blog post title ideas here above). This works by training our blog title generator tool on the vast body of Internet text to spot patterns.
In practice, we've trained our blog title generator tool by scanning countless successful blog posts, product pages, landing pages, and more—with the goal of giving you the most focused, proven blog post title ideas that have the highest likelihood of helping your content rank high in organic search engine results.
Tool built by my insanely talented friend, @sup.