Free Online Course: Find a Profitable Business Idea
Join 50,728+ entrepreneurs who've found their business idea.
Enter your Name and Email for instant access to my course. You'll get all four lessons including videos, written lectures and PDF workbooks delivered via email instantly. During the course, you'll learn how to find a business idea and validate it quickly.
In this action-oriented online course, you'll learn:
•  How to turn your interests into unique business ideas

•  How to discover your strengths and outsource your weaknesses

•  How to build a proof-of-concept and validate your business idea
Join the Free Course Now:
Trust me, I hate spam as much as you do.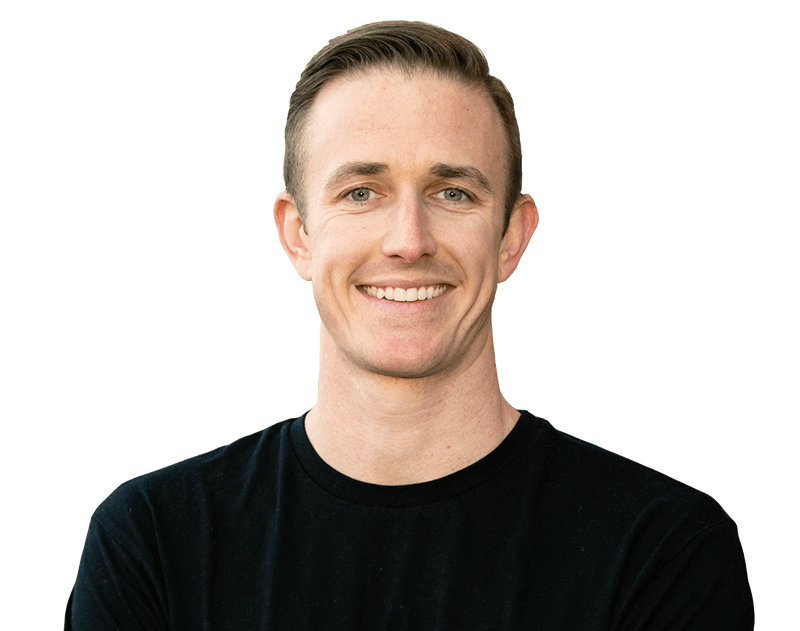 I'm Ryan Robinson. I teach entrepreneurs how to launch profitable side businesses.
Get My Unique Approach on How to Find a Profitable Business Idea
Here's what we're covering in this free online course.
1. Uncovering Your Interests & Finding a Niche.
Create clarity around your strongest interests. Finding the right business idea starts with understanding your interests and determining a niche market that you'll be able to truly connect with. In this lesson, we go through six activities that'll help you find a niche business idea that you'll care about. By the end of the lesson, you'll have a well-defined niche market to start building a business around.
2. Discovering & Identifying Your Strongest Skills.
Identify what you're good at and build a business around your strongest skills. Successful entrepreneurs learn early on, the importance of engaging your best talents and core skills when starting a business. In this lesson, we cover nine activities that'll walk you through identifying your best soft and hard skills. By the end of the lesson, you'll have the five soft skills and three hard skills you'll be using to get your business idea off the ground.
3. Building a Community and Validating Your Idea.
Combine your interests with your strengths and skills. Identify areas of opportunity to create a meaningful business by building a community around your idea. In this lesson, we'll craft an elevator pitch for your idea, start reaching out and build an email list of your first potential customers. You'll get my copy & paste email templates, scripts and tools for connecting with your target audience quickly. By the end of the lesson, you'll have the foundation for generating revenue from your business idea.
4. Is This the Right Business Idea For You?
The final lesson of this course is a reality check. We judge whether or not your validation test was a success, talk about what happens next whether it was a success or failure, and address how to deal with wanting to pursue multiple business ideas when you feel multi-passionate about several different opportunities at the same time. Should you start a blog? Build a product? Sell your services? By the end of this lesson, you'll have the criteria by which to choose the business idea that is best for you.
Join the Free Course: Find a Profitable Business Idea Now
Trust me, I hate spam as much as you do.
Learn from Wherever You Learn Best
Take Find a Profitable Business Idea with you on-the-go and complete activities from your mobile device, tablet, or computer.

You'll get unlimited lifetime access including regular updates and new content that'll help you take your business idea and grow it into a sustainable self-employed career. Why not join today?
Why I Created this Course
I'm Ryan Robinson. I've started 4 businesses in the past 6 years. I grew my last company to over $160,000 in revenue before selling it within the first year. More recently, I've been helping over 200,000 monthly readers find business ideas and turn them into profitable companies.
In the process, I've worked with thousands of entrepreneurs who want to learn how to start a business the right way. I've become a pro at both launching my own new businesses and coaching others on how to do the same. This won't be easy, but I'm sharing all I've learned, so you can find the business idea that's right for you, too.
My course has been featured on:
"This is one of the most compete email courses I've ever taken. I was able to remember an old and still very strong ability, which reminds me of who I am and what type of person I want to be. I couldn't find this with any other previous course."

Marie Ferrum


WordPress Developer
"Ryan has been a great mentor for me. The advice and value he provides through his in-depth courses is not only extremely helpful, but also keeps me inspired and focused. "

Harvi Sadhra


Digital Marketer
"I am shocked by Ryan's dedication and commitment with how much effort he puts into his courses. There is so much to learn from him. This course helped me find out what my passion was and figure out how to create a business around it."

Ted Ericson


Sales Consultant
"I'm am COMPLETELY impressed by this course and what it's helped me accomplish. The activities were easy to follow along with, and actually got me to make progress every single day. I hope to take another ryrob course very soon."

Oscar Vegas


Writer and Marketer
Frequently Asked Questions
This course is designed specifically for aspiring entrepreneurs who want to find the right business idea that's going to have the highest potential for profitability. If you've always wanted to start a business and become your own boss, but you don't know how or where to start, this course is for you. If you've started a business before and it just didn't work out, this course will set you down the right path to try again.
This course is free because I know you need it. My primary goal is to use my experiences to help other entrepreneurs avoid the mistakes I've made starting and growing businesses over the years. My #1 purpose is not to make money. There are already enough "experts" that won't help you without charging, and I'm different. I believe in openly sharing the absolute best business content that you'll be able to find, which is why 95% of what I create is given away free. I truly want you to find a business idea that's right for you, and start getting traction. All I ask from you, is that you treat signing up for this course as a contract: one that promises me you'll complete every activity and put in the effort it's going to take to succeed in business. It won't be easy, but nothing about becoming an entrepreneur ever is.
Will taking this course guarantee that I'll be able to start a business and make money?
No. Absolutely not. When starting a business, there is never a certainty of success. If you want a guarantee, you're in the wrong place. This course breaks down my personal process for finding business ideas, testing the marketplace, and validating their potential for success. If you take the course seriously, complete all the activities, and work hard to build your business concept, you'll have a foundation for getting your first paying customers and growing your business.
What do I get when I join the course?
Find a Profitable Business Idea is a video, email and PDF activity-based course. However, if watching videos from your couch and taking zero action is your kind of online course, then this is not for you. This course is specifically designed to walk you through the process of learning about yourself, understanding your interests, identifying market opportunities and finding that perfect business idea. After signing up for this course, you'll receive all four lessons delivered via email immediately. Each lesson starts with a brief lecture and leads into a time-tested PDF activity that'll take you to the next step toward finding your business idea.
What if I have more questions?
Ask away! I'm happy to answer any specific questions you have about finding a profitable business idea. Just shoot me an email and I'll get back to you as quickly as possible. I don't want you to waste your time on a course that's not going to truly benefit you, so if you're unsure, don't hesitate to reach out.
Join the Free Course: Find a Profitable Business Idea Now
Trust me, I hate spam as much as you do.